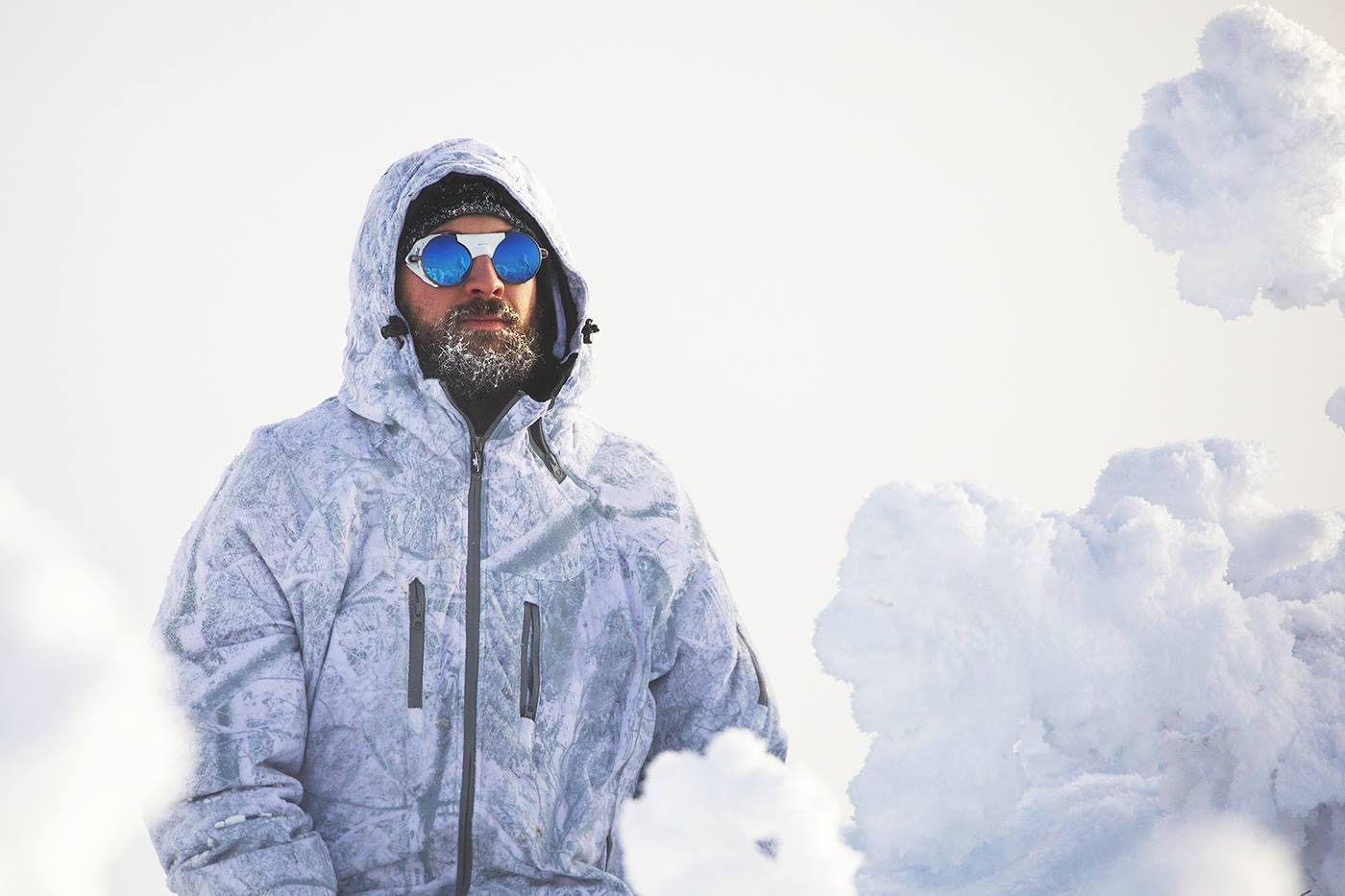 Photo credit: Anthony Verge
Jean-Simon Bégin is a professional painter and wildlife photographer from Quebec City. Active in these two disciplines for more than 15 years, he has participated in some sixty solo or group exhibitions and has received more than fifty awards in Canada and internationally. He is considered one of the most influential photographers in Canada. In 2022, he was named Canadian Wildlife Photographer of the Year by Canadian Geographic.
To date, over 1250 paintings and photographs bearing his signature have been acquired from collectors. A permanent artist with two prestigious Quebec gallery owners for several years, he launched his independent career in 2019 and inaugurated his studio-gallery. That same year, he founded a publishing house, Ookpik, to publish his first photographic art book, Contemplation, about Quebec wildlife in the winter context. The book sold over 2000 copies in less than two years. Solstice will follow in 2021, a monumental 300-page book illustrating the story of the longest sunny day of the year. The artist is currently working on his third book which will be about Nunavik.
Jean-Simon reaches tens of millions of subscribers annually through his various platforms. He acts as a content creator and shares all of his adventures free of charge to the greatest number of people.
With his work, he tries to raise awareness and educate the population about the fragility of biodiversity and the importance of saving it.
TRACKS
Youth and creation
From a very young age, Jean-Simon was involved in the world of art. A pottery workshop occupied a room in the basement of the family home located in the suburbs of Cap-Rouge. The young man's mother was an artist and art teacher. As a result, he had the chance to learn the rudiments of drawing and clay, and then came a natural affinity for the piano. He therefore took classical lessons for many years. This instrument was a great catalyst for the overflowing energy of the young artist for whom creation seemed instinctive.
Inspired by his father and George Brossard, he developed a fascination for insects and started his own collection; his first specimens came from his parents' backyard and the surrounding woods. He maintained this passion with his best friend, which led him to spend sleepless nights watching light traps and waiting for the rarest species to arrive. At the time, the neighborhood where he lived was surrounded by several swamps and forests, so he had the chance to explore this small wild world and discover many treasures. It was this environment that gave him a love for nature, an environment that has now almost entirely disappeared in favor of large urban developments, which deeply saddens the young explorer still present in him.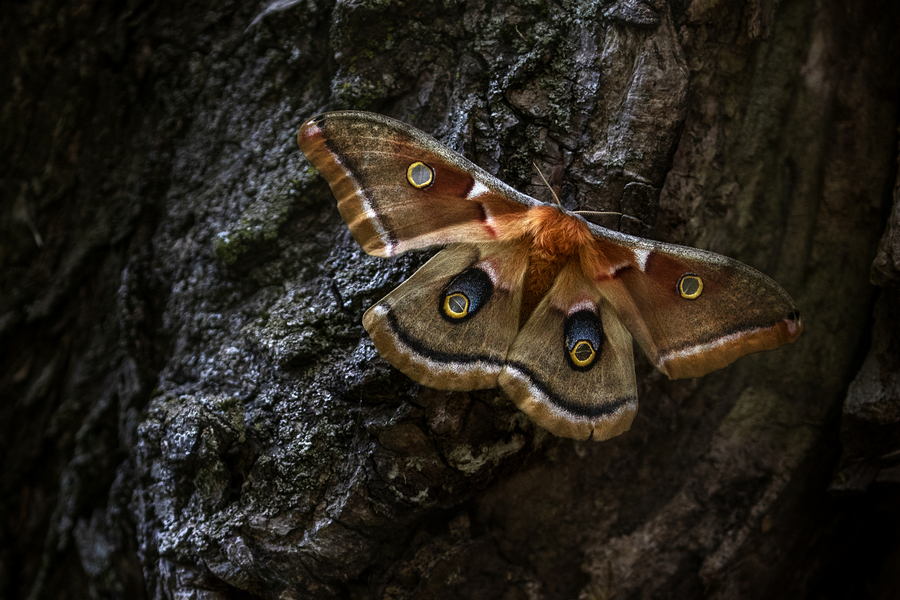 Photo credit: Jean-Simon Bégin, image of an American Polyphemus coming from a breeding that Jean-Simon realized. About thirty of these butterflies were then released in the wild.
A little later, at the age of 12, he came into contact with photography in a more concrete way. One day, his father, an agronomist, brought home a digital camera, one of the first models available. These cameras were far from being efficient, but seemed to offer a new world of opportunity. In the yard of the family home, a small stream meanders and several species of animals seem to enjoy the tranquility of it. It was in this familiar setting that Jean-Simon captured his first image with a camera: a mallard duck in flight. Both his parents were impressed by the picture and had it printed. This image was a turning point for him, as it was from this moment that his photographic journey began.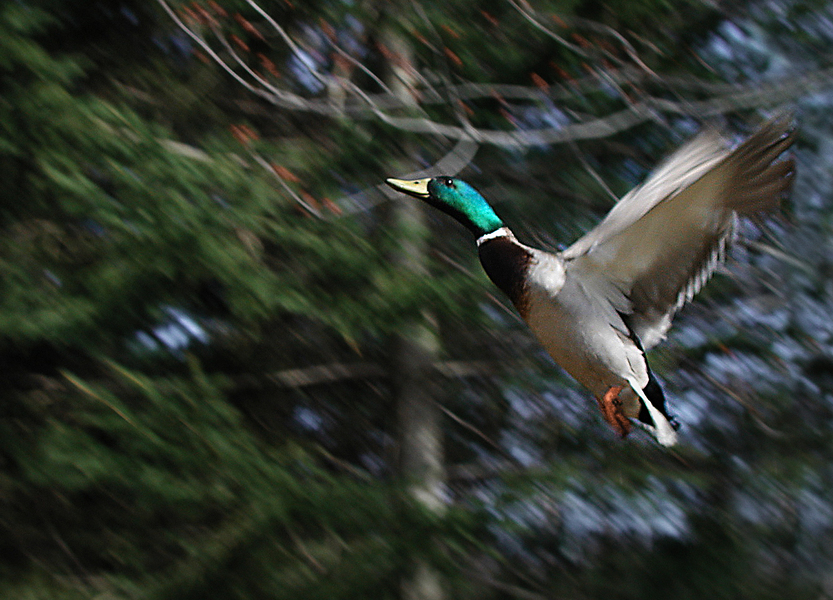 Image that Jean-Simon captured at the age of 12 with the first generation of digital camera. A passion was born from this picture...
During his teenage years, drawing still occupies much of his time while classical piano gives way to a rock band. As far as photography is concerned, he practices it at any occasion, as soon as he finds himself in nature. A school teacher noticed his potential and suggested that he create postcards with his nature images. This opportunity marked the young entrepreneur and sowed the seeds of a great idea in his head. Throughout his school career, he was supported and encouraged by his teachers, but especially by his parents to continue in this direction.
It was in college, while studying graphic design, that he realized an art project that changed his life. The project consisted of creating an original work inspired by a well-known painter. To do so, he chose the artist that inspired him the most at that time: the great Jean-Paul Riopelle. Having already had the chance to experiment with a variety of mediums at the family home, he tried oil painting with a spatula for the first time. His canvas, of abstract style, allows him to awaken a hidden talent and especially an affinity with this unusual and difficult to tame tool.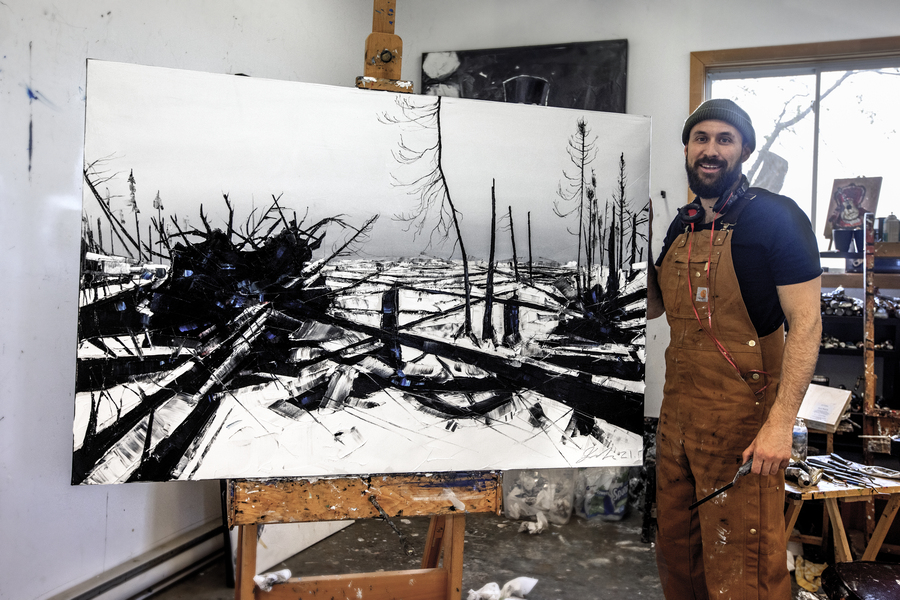 Jean-Simon posing in front of the work "Le brulis II", completed in 2019.
Early career
A few years later, the artist offered his first solo exhibition to the public and the 15 paintings that were part of it were sold in a short time. After two years of study, he leaves the graphic design program to satisfy his desire to discover the world. Under the threat of the destruction of ecosystems, he feels the urgency to realize a childhood dream, that of exploring the jungles of South America. For more than a year and a half, he criss-crossed Latin America from Mexico to Argentina. From country to country, he captures images of the fauna crossing his path, performing at the same time photographs in scuba diving. The Galapagos Islands are a highlight of the trip. This place, inspiring his greatest dreams of biodiversity, turns out to be a great ecological disaster: the 27,000 inhabitants of the islands burn all their waste and the picture painted is sinister. This great journey that was to continue for another year ends in Vietnam, from where he had to return for family reasons and the great need to find his home: Quebec and its forest that he knows so well.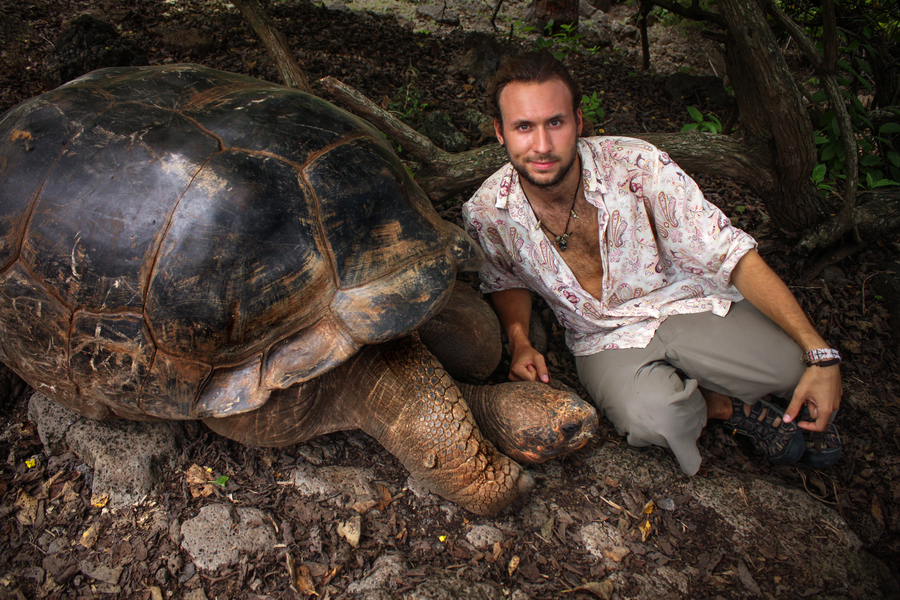 Jean-Simon posing next to George the Loner in the Galapagos Islands. Georges died without descendants on June 24, 2012, at an estimated age of over 100 years
As soon as he returned home, he devoted all his time to his career as a painter and photographer, music having then taken a more secondary rank and that he practiced only as a hobby. Over the next few years, he devoted himself to these two professions, in addition to working in the restaurant business to finance his ventures.
The creator lives well from his painting and has many exhibitions. However, photography brought him little income and required considerable investments each year. Working relentlessly during the day, evening and weekends, it was several years later that he was finally able to devote himself full time to his two passions. Jean-Simon's story is one of perseverance. He never lost sight of his goal of living from his passions, despite the countless obstacles and setbacks that life imposed on him.
Mission
In recent years, Jean-Simon has become one of Canada's most recognized photographers and wishes to inspire as many people as possible to take the environmental cause to heart. Having experienced the loss of natural territory himself, he wants the world to understand the importance of biodiversity conservation. He has been specializing in the northern wildlife of Quebec for several years and has recently been exploring Nunavik, where he wishes to share its unique culture and biodiversity with the world.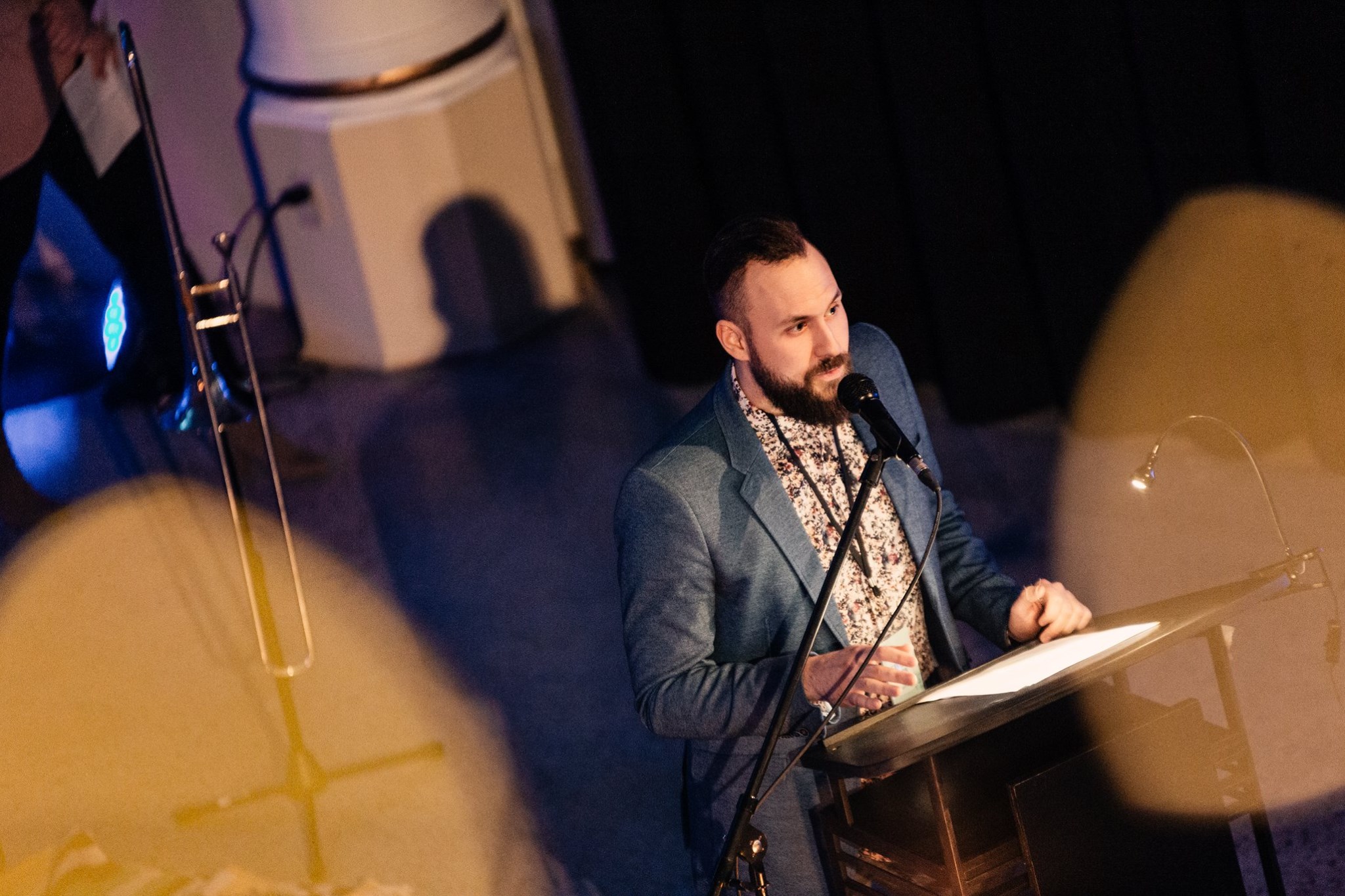 Speech during Jean-Simon's honorary presidency at the 2019 annual
For many years, Jean-Simon has offered his images free of charge to newspapers and NPOs working to defend endangered species in Quebec. His involvement in the Charlevoix woodland caribou cause has allowed him to give a face to these animals and to share images of these endangered animals with thousands of people.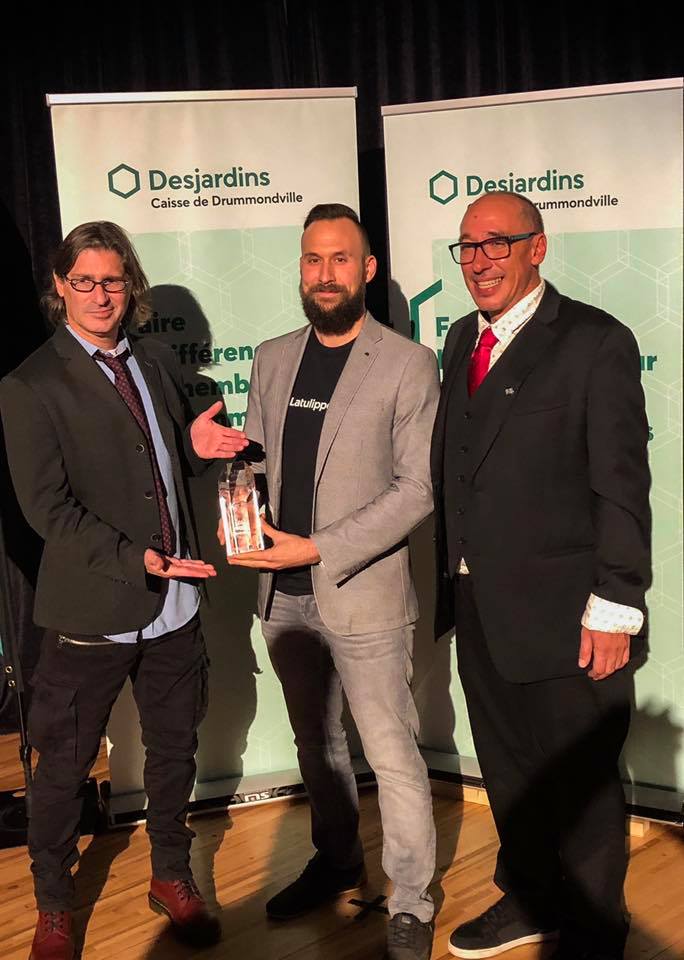 Presentation of the FOCUS award for the best wildlife photographer in Quebec 2019
The photographer also gives conferences in schools to raise awareness of our local wildlife among young people. With his social networks, he reaches tens of millions of people annually. His career is just beginning and he has great ambitions for the future. As he likes to say, he will practice his two passions until his last breath.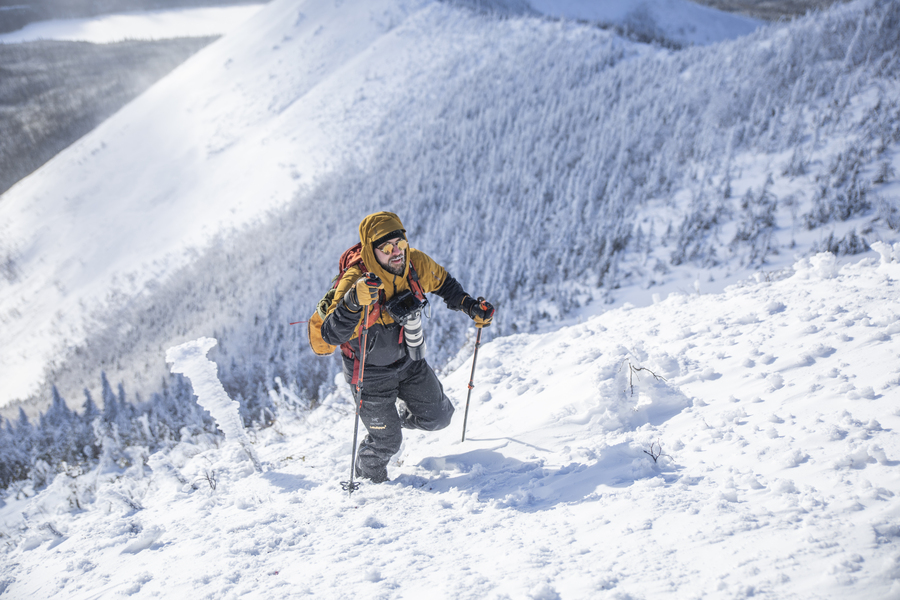 Photo credit: Anne Rousseau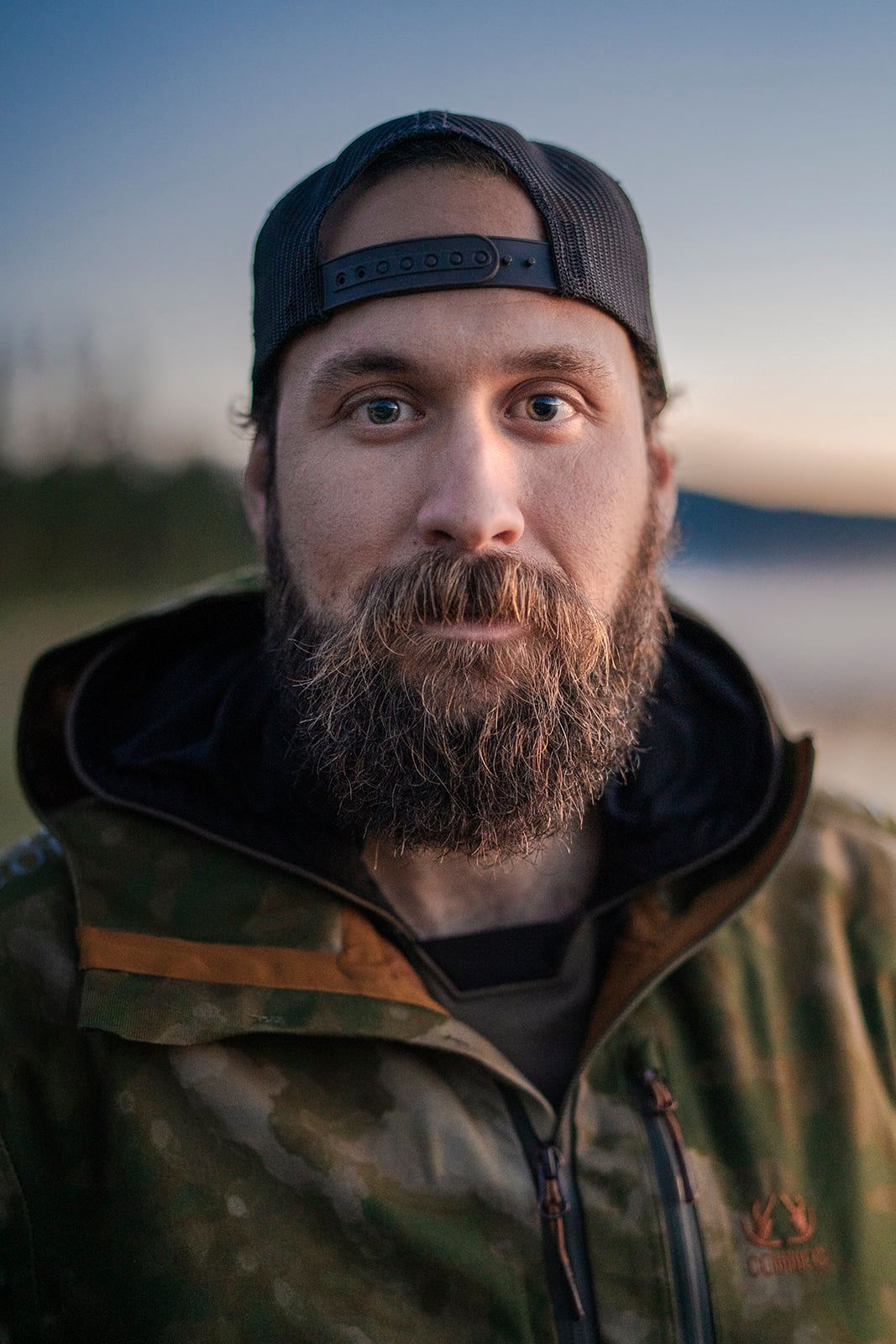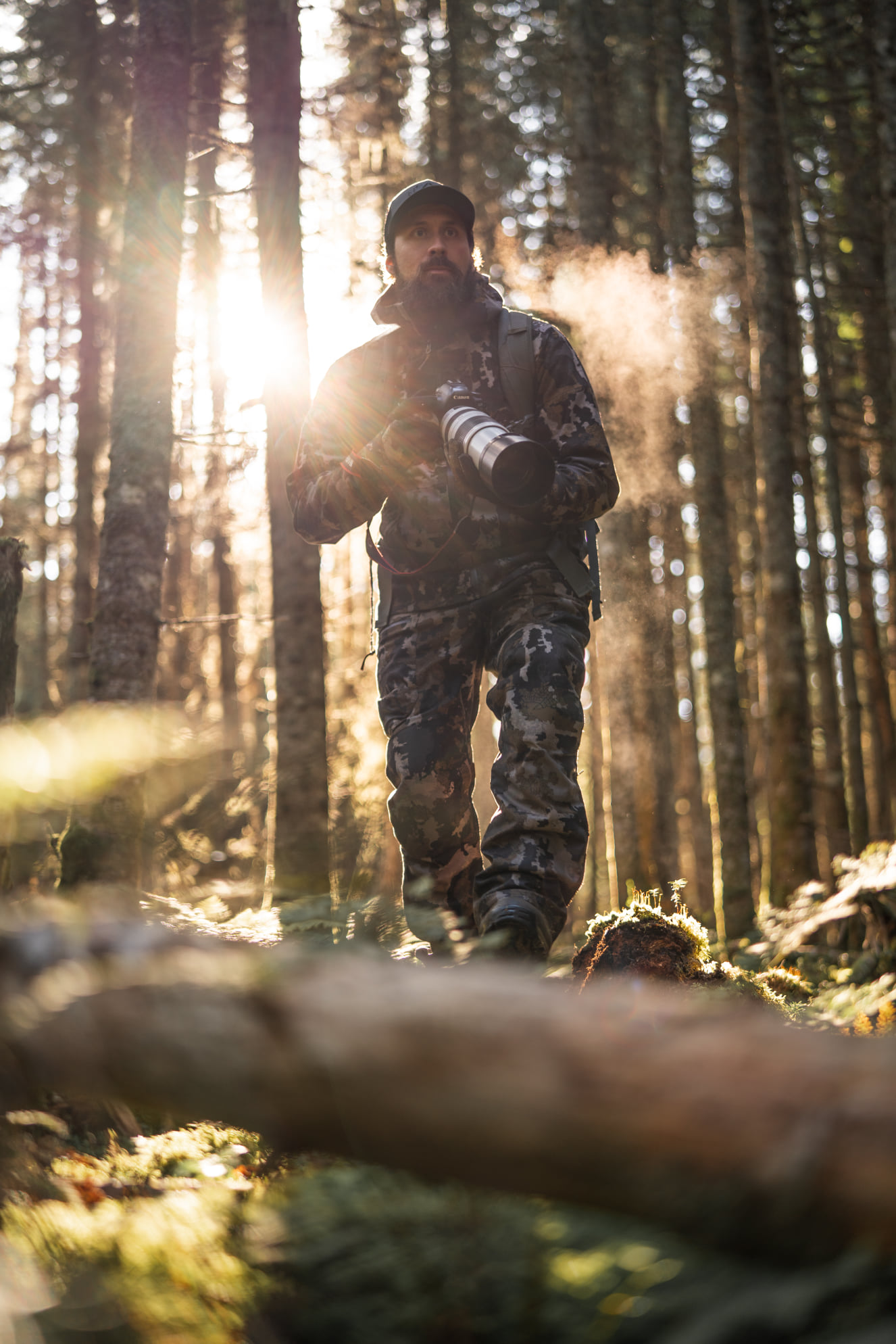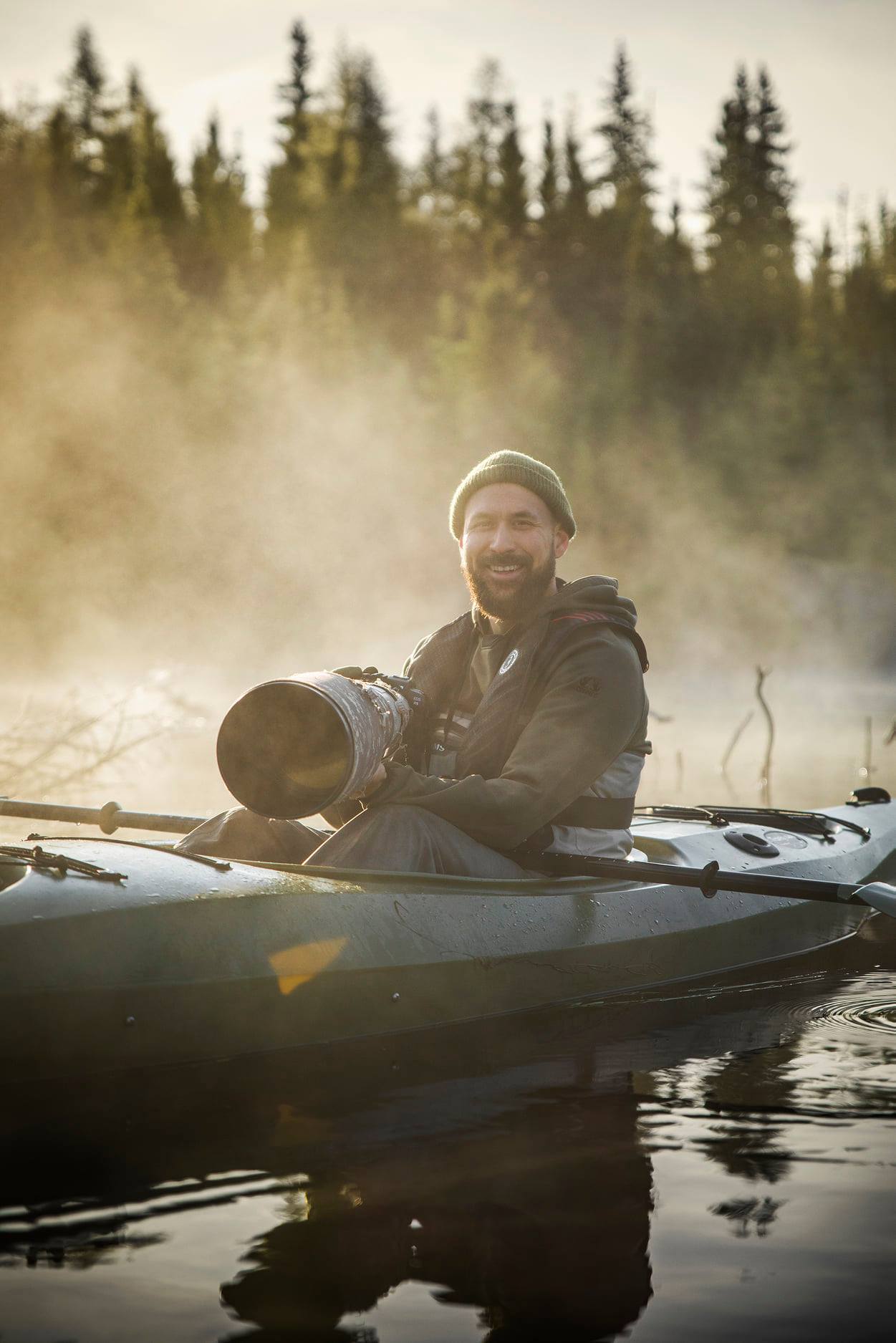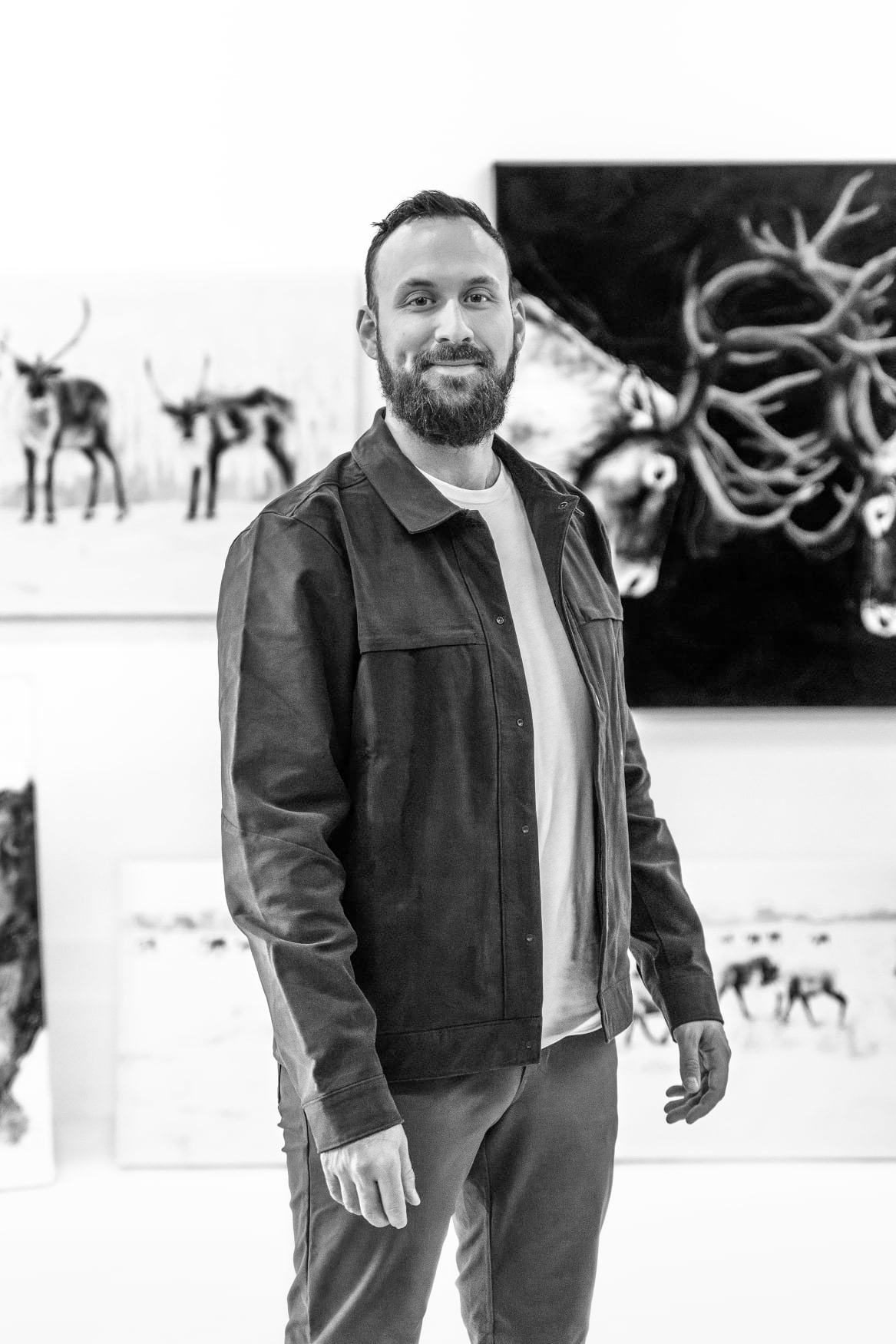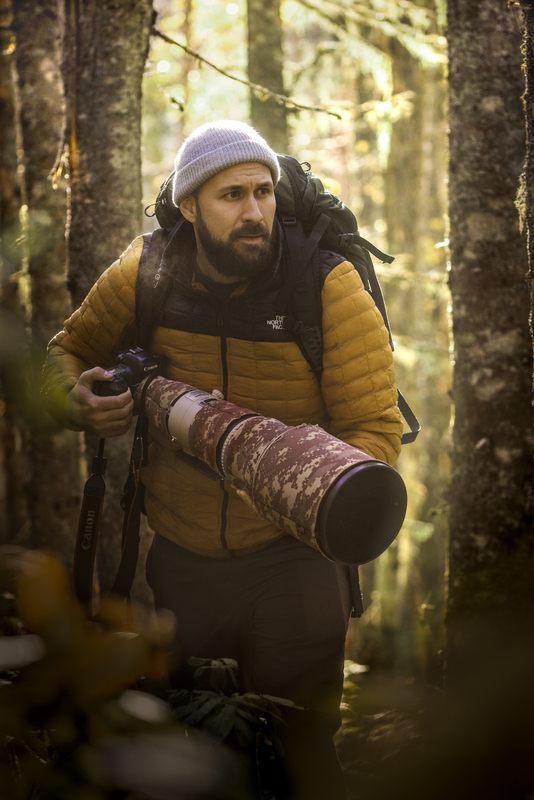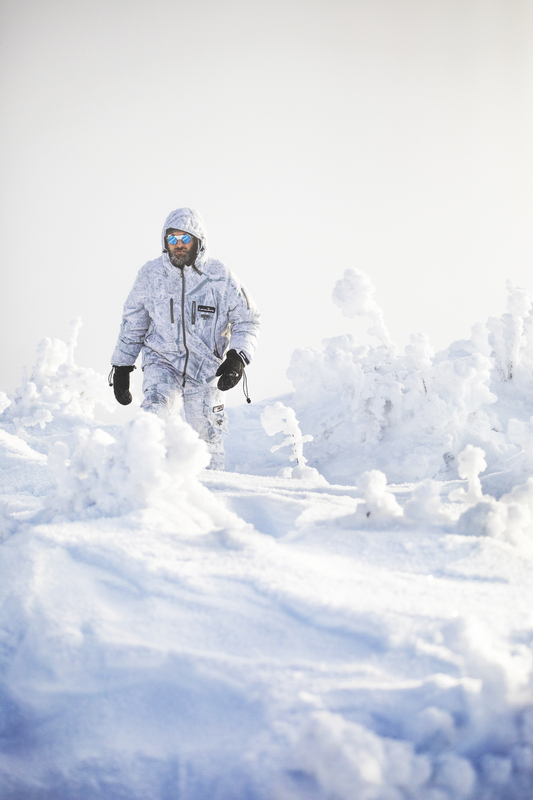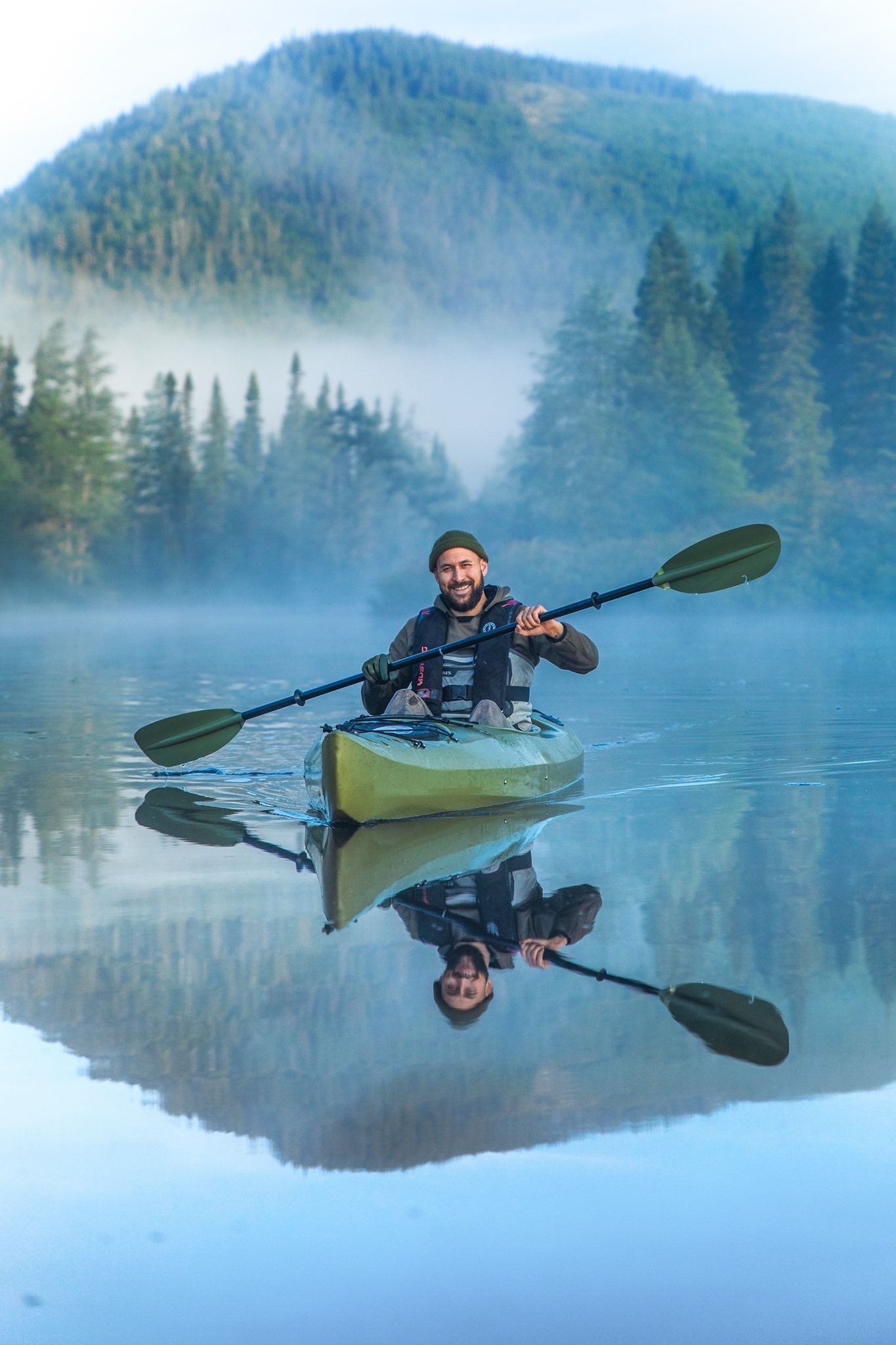 CURRICULUM VITAE PHOTOGRAPHY
PRIZES AND AWARDS
First prize of the jury Wildlife in Action category - Canadian Photos of the Year 2023
Honorable Mentions - Birds category - National wildlife Federation 2023
Honorable Mentions - Mammals category - National wildlife Federation 2023
First prize of the jury Wildlife category - Canadian Wildlife Federation 2023
Canadian photo of the year - Canadian Photos of the Year 2022
First prize of the jury - Festioiseaux 2022
First prize of the jury -Nature photography - Wildlife- London photography Awards 2022
Bronze Trophy Wildlife - One eyeland International 2021
Bronze Fine art book - One eyeland International 2021
Bronze Nature book - One eyeland International 2021
First prize public choice - RCN 2021
First prize of the jury - Canadian Wildlife Federation 2020
First prize of the jury Nature Sauvages 2020
First prize of the jury - Nature Sauvages 2019
First prize of the jury- photographe animalier de l'année FOCUS 2019
First prize of the jury - concours photo 2019 - SSF
First prize of the jury - Ecomuseum 2018
First prize of the jury - Nature Sauvages 2018
First prize of the jury - Nature Sauvages 2016
First prize of the jury - concours foresterie 2016
First prize of the jury - Ecomuseum 2017
Silver - Silver in the Moscow International Foto Awards 2022
second place of the jury - Oiseaux - Nature Sauvages 2017
second place of the jury - Oiseaux - National Wildlife Federation 2017
Third place of the jury - Concours photo 2019 -SSF
Winner calender 2019 -Reflection of nature contest - Canadian Wildlife Federation
Winner du calender 2019 - Reflection of Nature / Canadian Wildlife Federation
Winner du calender 2019 (#1) - CONTEST, GREENPEACE
Winner du calender 2019 ( #2) - CONTEST, GREENPEACE
Lauréat (3 winning images ) 2020 photo contest Prenons la pause (International/France)
Coup de coeur du jury - 2020 contest Prenons la pause (International/ France)
Mention Honorable - Honorable Mention in Wildlife and Animals - Chromatic Awards 2021 (International)
Mention Honorable - Honorable Mention in Wildlife and Animals - Chromatic Awards 2021 (International)
Mention Honorable - Honorable Mention in Wildlife and Animals - Chromatic Awards 2021 (International)
Mention Honorable - Honorable Mention in Wildlife and Animals - Chromatic Awards 2021 (International)
Mention Honorable - National Wildlife Federation 2020
Mention Honorable - Honorable Mention in Wildlife and Animals Chromatic Awards (International)2020
Mention Honorable - National Wildlife Federation 2019
Mention Honorable - Honorable Mention in Wildlife and Animals - Chromatic Awards 2019 (International)
Mention Honorable ( page couverture du magazine) - National Wildlife Federation 2018 (International/USA)
Mention Honorable ( #2 ) - National Wildlife Federation 2018(International/ USA)
Mention Honorable - IG contest 2019 - Outdoor photography Canada Magazine 2019
National Geographic Daily Dozen "Top Shot" - Your Shot Mar 2018(International)
National Geographic Daily Dozen "Top Shot" - Your Shot Jan 2018(International)
National Geographic Daily Dozen Selection - Your Shot Aug 2017(International)
2021 Young Business Personality of the Jeune chambre de commerce de Québec - Marketing, content creation and communication
CONTEST JUDGE
Judge wildlife Photography Contest - Festival des oiseaux de Rimouski 2023
Judge wildlifePhotography Contest – 2023 Festi-oiseaux Bioparc
Judge wildlifePhotography Contest – Chair AFD UQAT 2022
Judge wildlifePhotography Contest – 2022 Rimouski Bird Festival
Judge wildlifePhotography Contest- Click déclic et passion Contest - 2021
Judge wildlife Photography Contest – 2021 Rimouski Bird Festival
Judge wildlifePhotography Contest – 2021 Repentigny Photo Club
EVENTS/EXHIBITIONS
Neige éternelle Exhibition II - Outdoor Exhibition - Quebec City
Neige éternelle Exhibition - Outdoor Exhibition - St-Bruno de Montarville
Exhibition 2022-Canada-China Biodiversity Photo exhibition
Solstice Exhibition - Outdoor Exhibition - Quebec City
Solstice Exhibition - National Museum of Photography - June to August 2021
Guest of Honour and Judge – 2021 Clic déclic et passion Contest
Honorary President - 2019 Annual, benefit for the SNAP
PUBLISHED BOOKS - OOKPIK Publishing House
- Contemplation Limited Edition - 500 copies - 2020
- Contemplation Regular Edition - 1300 copies - 2020
- Solstice Limited Collection Edition - 500 copies - 2021
- Solstice Regular Edition - 1500 copies - 2021
PRINTED PUBLICATIONS
Wildlife - 2015 – 2019 - 30 publications and more (7 cover pages)
Ultimate Canadian IG – 2018 Can Geo - 1 publication
Outdoor Photography Canada - 2019 - 1 publication
National Wildlife Federation - 2018 - 1 publication
Best Wildlife Photography - 2019 - Can Geo - 1 publication "Je Décore - spéciale chalet" 2018 - 1 publication
Le Devoir – July 28, 2018
Le Devoir – April 4, 2019 - The woodland caribou will remain unprotected
Le Devoir – April 5, 2019 - Rescue in preparation for the Val-d'Or caribou
Le Devoir – December 9, 2019 - Quebec cancels caribou protection measures in favor of foresters
Le Charlevoisien- December 10, 2019
Le Charlevoisien – December 17, 2019
Le Devoir – May 8, 2021 - All Charlevoix caribou will go into captivity
Le Devoir – November 5, 2021 - Legault Government postpones caribou protection
Le Devoir – July 16, 2021 - Quebec launches caribou captivity project in two national parks
Le Devoir – November 17, 2021 - Two lawsuits in sight to save the woodland caribou
Le Devoir – December 21, 2021 - Ottawa may step in to protect Quebec's caribou
Le Devoir – January 5, 2022 - Five environmental issues to watch in 2022
Le Devoir – January 19, 2022 - Charlevoix and Gaspé caribou in captivity this winter
WEB PUBLICATIONS
National Geographic – Official Facebook Page – March 27, 2019
National Geographic - Instagram – March 2018
National Geographic - Instagram - January 2018
CURRICULUM VITAE PAINTER
PRIZES AND AWARDS
2010 Winner of the Desjardins Jury's Prize at the 2010 Découvr'art Festival
2014 2nd Place for the Camille St-Pierre Award - Baie-Comeau Symposium
2014 Public's Prize of L'Estivale –The Contemporary Space of Quebec City 2014
2014 People's Choice Award-Festival Promutuel de la Relève de Thetford Mines
2014 2nd Jury's Prize at the Festival Promutuel de la relève de Thetford Mines
2014 Award of recognition from his peers at the Symposium Plaines Couleurs
2015 1st Place for the Camille St-Pierre Award/Symposium Baie-Comeau
2018 Honorary President / North Magdalen Islands Symposium
REPRESENTATIVE GALLERY
2012- Gallery of a time
2013-2014 - L'Espace Contemporain de Québec-
2014-2016 - The Golden Dog Gallery
2014-2018 - Ni Vu Ni Cornu
GROUP EXHIBITIONS
2009 - Exhibition at the "Trompe-l'oeil" Gallery of the Cégep de Sainte-Foy
2010 - Festival Découvr'art, Chapiteau Desjardins
2011 - Maison Blanchet Art Gallery, January 1st to January 30th
2014 - Exhibition: Cocktail & Art at the Caisse Desjardins de Cap-Rouge
2014 - Jeune Peinture Bell/ Festival Promutuel de la Relève de Thetford Mines
2016 - Out of the box / Quebec / Bégin-Cunningham-Landry-Ouellet
2017 - BBCKL Collective / Rue St-Paul, Quebec
2017 - Painter Resident Hotel Tadoussac / Painting Happening
SYMPOSIUM
2013-14-15-16-17-18-19 / Discover Art Festival
2013-14 / Painting Symposium Plaine Couleur
2013 / Painting Symposium The Centennial of the Tracel
2014 / Welcome to the City Symposium
2013-14-15-16-17-18-19 / Visit'Arts-Québec
2014-15-16-17-18 / Baie-Comeau Painting Symposium, 28th edition
2014-15-16 / Arts and Reflects, Symposium of Château-Richer
2015-15-17 / Victo and his geese - Victoriaville
2015-16 / Thetford Mines Painting Symposium
2015-17-18-19-21 / Symposium of L'étang du Nord- Îles de la madeleine
SOLO EXHIBITION
2010 - Arid and Blue, at the Gwalarn Art Gallery, February 7 - March 22, 2010
The waltz of the leaves, Ninkasi du Faubourg, April 22 - May 29, 2010
L'humain, L'inox Microbrewery, May 30 - June 27
2012 - Varnishing, Théatre Petit Champlain, November 17 - 18
Gallery of a Time (personal project of the artist) - Virtuoso Collections, City and Dusk - November 19 - January 15, 2012
Exhibition on the theme of jazz, Restaurant le Largo, March 4 - May 20, 2013- 2014
2013- 2015 / Crimson, Boutique équilibre traiteur
2013- 2016 / Virtuoso of red, Restaurant les Boucanes
2021/ CARIBOU / Fifteen Architecture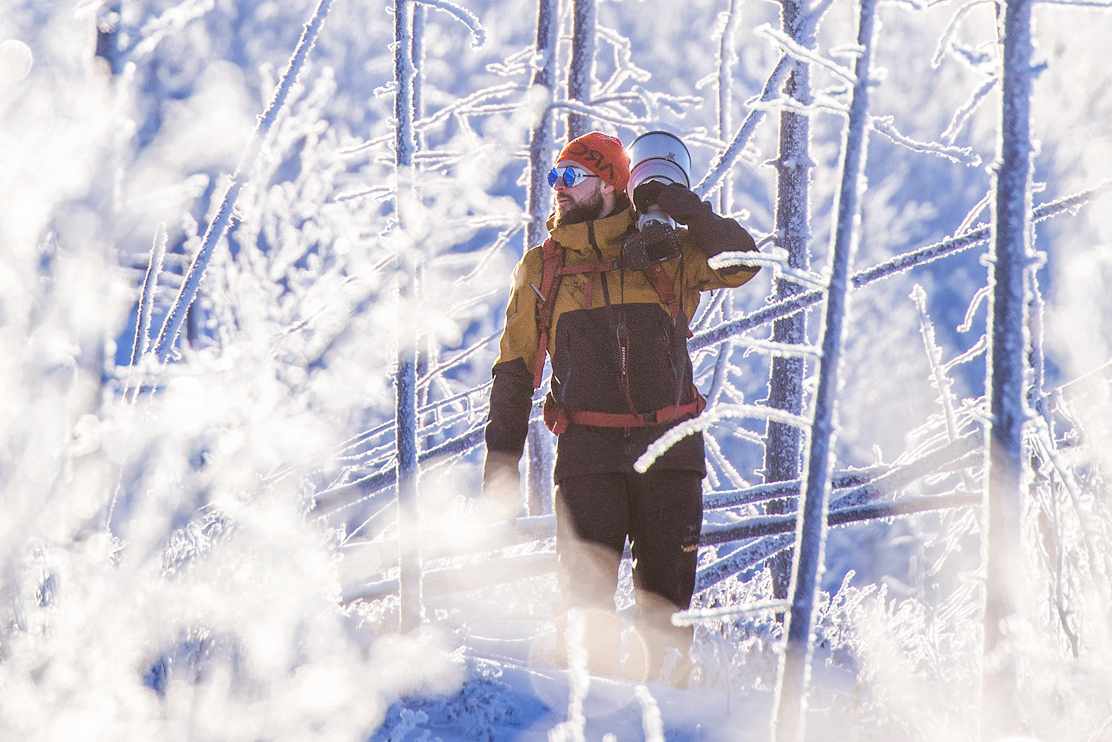 Photo credit: Anne Rousseau